Luxury Of The 1001 Nights
We put back in colonial India, a picture of jungle and elephants is in us. From palaces and luxury of living maharajas. Of course we are aware that this cliché does not always completely met, even if Hollywood has cemented that image in our heads with his various adventure films since Gandhi's time at the latest. But not always, these fabulous stories were pure invention.
From 1856 to 1870, the Maharajah Gaekwar Khande Rao ruled the Indian dwarf state of Baroda. This not undisputed ruler loved the luxury and provided the inspiration for numerous literary figures. Probably to gain the goodwill of his Muslim subjects (for a Hindu ruler not an easy feat), he gave a work of art in order, which was hardly to surpass of decadence and luxury: a noble chador for the tomb of the Prophet Muhammad It should be, one, as the world had not yet seen it. He made was not made of silk or wool, no, the best jewelry stores of the Principality was followed by him from something far more precious: from beads.
Now beads in India of at the time were highly appreciated. Almost every local leaders wrapped up in
long beaded necklaces and graced his ear lobes with fine earrings made of beads.Brought mythological depending on religious affiliation with Krishna's laughter or tears of Adam and Eve in conjunction, they were seen as a precious gem. Also the family of the Gaekwars of Baroda had, accumulated like so many maharajas, tons of the precious artefacts. In particular his notorious seven-row Pearl Necklace became a legend, appeared the English which had to do with him, but as a Summit of the waste.
Maybe the famous Pearl carpet first and foremost was a sophisticated method to keep these beads. Because until after Mecca, as announced, has never succeeded in the good piece. It remained in the local Treasury. The motifs come rather from the Arabic tradition and remind a little of rosettes, how they were artfully made even during the construction of the Taj Mahal and they were so popular in the Mughal Empire from the Baroda ruler previously conquered their territory. Originally it was a round canopy and four individual carpets in the size of ca 2, 70 m x 1, 60 m. Only one of these parts is obtained.
The carpet consists of the incredible amount of approximately 1.4 million beads (all real nature pearls, mind you) with a diameter of between 2 and 3 millimeters, the motives are partly exposed to much larger beads. Only the weight of the beads of the remaining part of the carpet is about 6 kg. Each bead is individually reared and linked. Also processed gemstones: 600 emeralds, 1300 rubies and fabulous 2600 diamonds, set in silver and gold.
His sight, when the sunlight on millions of shimmering pearls falls, must be simply incomparable, especially since even chandeliers and colours of these beads are finely sorted, to achieve a wavy brilliance.
Such extravagance was their price. The eccentric ruler should have spent 60 million rupees. At an auction in 2009 in the Emirate of Qatar the carpet took the record sum of $5.5 million.
Gallery
Baroda pearl carpet
Source: nasvete.com
The Pearl Carpet of Baroda
Source: www.neatorama.com
Baroda Pearl Carpet
Source: www.historyofvadodara.in
Pearl Carpet of Baroda, rectangular-shaped,length,2.64 meters
Source: www.internetstones.com
Baroda pearl carpet
Source: nasvete.com
Baroda pearl carpet
Source: nasvete.com
The Pearl Carpet of Baroda sold at Sotheby's for over $5 …
Source: www.whatonemillionbuys.com
Masters of Craft : Made for Maharajahs: the pearl carpet …
Source: masters-craft.blogspot.com
Maharani of Baroda's Picasso Drawing: SCÈNE DE CORRIDA …
Source: www.historyofvadodara.in
Detail Images of Pearl Carpet of Baroda: Rare Carpet to be …
Source: www.rugrag.com
Pearl Carpet di Baroda (Foto)
Source: www.designmag.it
Detail Images of Pearl Carpet of Baroda: Rare Carpet to be …
Source: www.rugrag.com
Baroda pearl carpet
Source: nasvete.com
January | 2014 | ROYAL HERITAGE
Source: meenakhshikumari.wordpress.com
Baroda pearl carpet
Source: nasvete.com
Baroda Carpet of Pearls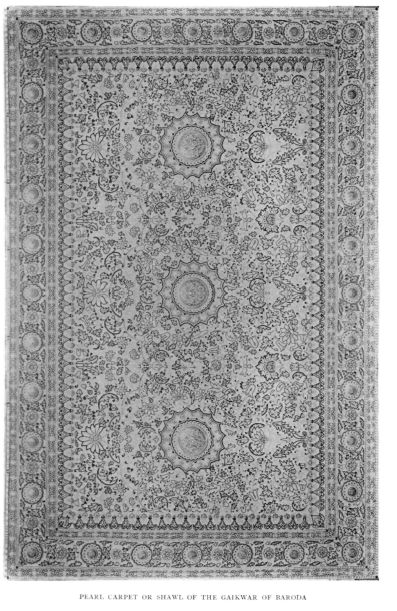 Source: www.karipearls.com
Antique Oriental Rugs: Pearl Carpet of Baroda Sells for …
Source: oriental-rugs-persian-rugs.blogspot.com
Natural Pearls
Source: www.antique-jewelry-investor.com
Sotheby's | Auctions
Source: www.sothebys.com
Pearl carpet of Baroda – Dulcey Heller
Source: www.dulceyheller.com
Baroda pearl carpet
Source: nasvete.com
Tappeti antichi: Pearl Carpet di Baroda, il tappeto di …
Source: www.designmag.it
Baroda pearl carpet
Source: nasvete.com
Baroda pearl carpet
Source: nasvete.com
Pearl Carpet of Baroda, rectangular-shaped,length,2.64 meters
Source: www.internetstones.com
Detail Images of Pearl Carpet of Baroda: Rare Carpet to be …
Source: www.rugrag.com
Baroda's pearl carpet – The difference between religion …
Source: quicktake.wordpress.com
The Pearl Canopy of Baroda, India
Source: www.jadeitejade.com
The pearl carpet of Baroda
Source: kunsthandelinezstodel.wordpress.com
The Pearl Carpet of Baroda sold at Sotheby's for over $5 …
Source: www.whatonemillionbuys.com